This is hilarious. Be sure to check it out when you can….
The cast of Dancing With The Stats Season 20 posted some cool photos over the weekend. There was a time for rest and fun ….and a time for work. Here are a few pics from Easter Sunday that caught my awe giving me some awww moments. Also, don't miss seeing the Daily Mail for some rehearsal arrival parking lot photos. Got Pap has some videos from over the weekend too. More below including video of Sharna Burgess and Noah Galloway rehearsing for the Contemporary dance…
Any guesses for what this new teaser is about? Or maybe we should ask, what would you like the announcement to be about? If you can't see the video at the link below, click HERE or HERE.
We have an announcement to make during Monday's live show! Tune in to #DWTS at 8|7c on ABC.

Posted by Dancing with the Stars on Friday, April 3, 2015
People posted a new article with Noah Galloway and how he is dancing without two limbs. It hasn't been easy and he credits his partner Sharner Burgess for "adapting" to his injuries. Read on….
"Most people take it for granted," Galloway told PEOPLE. "Before I was injured, I wouldn't have thought about it either. I don't take offense to that. Anytime that I brought it up to my friends that I don't have a knee, it clicks with people, like, 'Oh, that is different.' But I also felt like that was an opportunity to put me on a larger platform to show how different is is for me. Every amputation is different. Where it is changes everything."

The prosthetic leg that Galloway uses for DWTS does bend – but not in a way that makes dances like the jive or even the samba easy.

"When people lunge onto their legs, they can push back up. I can't. If I lean into it, then I'm going down," explains Galloway. "This prosthetic has a micro-processor that can add resistance as I'm bending that can slow me down. There's just no coming back up. It just helps with how fast I am going to go to the floor – either really fast or I'm going to ease down to it."

Galloway credits his partner Sharna Burgess for "adapting to my injuries."

"The judges said the male leads with his left hand, and they were talking about how amazing it was how we put everything together, and that's all Sharna. She designs the dances so I won't have to lead with the left arm, but I am still leading the dance."

"All I know about dancing is what Sharna has taught me. She is teaching me how to dance while missing an arm and a leg. It's been amazing."
For more with Noah, see People.
And speaking of People, be sure to pick up the 10th Anniversary Edition for what we reported to you a few weeks ago. It's in stores everywhere now. JennKat at twitter wrote that it's 98 pages and it has tons of pics. It also has a 2 page spread for each season and some nice pro interviews too. See her twitter page for more teasers including pictures if interested.
How about a new Questionnaire to see how you are feeling about the 20th season of Dancing With The Stars so far? Answer the questions below to the best of your ability or what you think of first.
1. As of right now, who are your Top 4 Favorite Couples? Also, rank them in order.
2. Do you think your top 4 favorite couples will make the finals? If not, which 4 couples do you think WILL make the finals? Read more..
Man, I was digging this new Afterbuzz TV show last night ….especially being Mark Ballas was a guest. He provided some cool "behind the scenes" information about the dancers and the show, getting his partners from A to B, how you can tell who is in it to win it every season, what it's like having a gymnast for a partner, and more. Though, I have to say….I was disappointed at the end when he and Anna Trebunskaya went on about Henry Byalikov and what a great job he's dong with Nastia Liukin. Hey, maybe Henry is doing a good job and that's cool, but, let's be REAL here! Anna said Henry has Nastia for "half the week" when that IS NOT TRUE! Henry only has Nastia for TWO days (Saturday and Sunday). It's also not true that Henry is doing all the cleaning up, etc as Derek has been conversing with them on the weekend from New York City making sure everything is perfect. Yes, Henry may be a stand in for Derek on the weekend, but, he's not doing it "all". So for those on the Afterbuzz TV show and fans taking it in everything Anna says as if it's "word", think again. Also, Derek is doing ALL of the choreography HIMSELF. See this NEW "YOUNG HOLLYWOOD" rehearsal interview of last week's rehearsals in New York City. This footage was filmed before Nastia went back to Los Angeles….doesn't this say it all? Anyway, take a listen to the show below and let us know what you think. Yes, I'm wound up. 😐
I got an idea in the shower this morning to do my poem/writing this week without rhyming. But, it will be expressive in another way. The theme of red-hot, fire, etc will populate the writing. We had our fires, our passions stoked:

For The Love of Latin
The opening was a red-hot explosion
Dripping with the flames of passion
A'blaze with fires kindling in our souls
Dancers' feet, as if steeping on hot coals
Electricity crescendoing in the Ballroom
Latin flavor oozing out of every pore
Latin dances typically ooze sensuality
The dynamic of love as a fiery furnace
Lifts expressing strength of lovers' union
Our hearts filled with the spirit of dance
Each dance unique bursting with spirit
Fanning flames of power of creativity Read more..
Below is Lori with Carrie Ann Inaba and Julianne Hough's new blogs!! She is life saver and helping me with Blogs on Media Tuesday and I'm liking the way she's combining them! What do you think? And Lori, I loved Julianne's lip stick too! THANKS for all of your help!! ~ Vogue
I'm trying something new, and putting both of our female judges in one place. Let me know if you like it this way, or would prefer to have them separate.
Carrie Ann's weekly blog post is up at Parade, and it was obvious to me that she reads the comments that people have about her judging.
On a personal note, last night was challenging for me personally. It is never easy to give constructive criticism to people you look up to and respect. However, that is what we are there to do, it is our job to judge and I believe it is my job to help each contestant to be their personal best. I offer advice that I hope will help them have a better chance at winning in the long run. After being a judge on the show for every single episode for 20 seasons, I know what the audience likes to see, and I know what we as judges like to see. I may have upset a few people, which I never want to do, but it comes with the territory of being a judge.

Last night, I enjoyed Suzanne Somers and Tony Dovolani's samba. It was a delight to watch and was sheer entertainment. They could have gone straight to Vegas and sold out! But after three weeks of very colorful, light and almost campy (in a good way) routines, I would like to see more depth to her performance. Suzanne is an icon. She is a very strong woman. She's in great shape and she looks terrific, but I feel there's more to her. I'd like to see her do something that expresses her passion, her grace and elegance and shows us a new dimension. I didn't deduct points because she hasn't shown us that yet, but I was offering advice for the future. I upset Tony — which if you have read any of my blog posts or know me at all, you would know is NOT my intention. I have nothing but respect for these incredible professionals on our show. No one works harder on television than our pros, working as choreographers, therapists, friends, trainers and guides throughout this journey for their celebrity partners, and I have nothing but respect for their passion, dedication and excellence. But I worry that if Suzanne keeps doing light performances, she will get lost in the crowd. I'd like to see a bit of drama in her performance, a bit of passion, and a bit more depth. So, I'm looking forward to next week to see what they put together for us. And remember, I'm rooting for everyone out there to do his or her best!
I like parts of this, and do agree, but other parts was Carrie Ann definitely doing some CYA Fluff. Check out the link above to read the whole blog!
And Julianne has her weekly blog is up on People, I LOVE the color of her lipstick!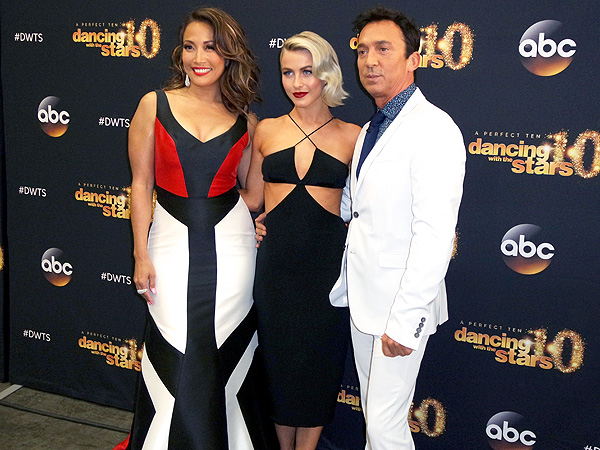 Carrie Ann, Julianne, and Bruno.
Such beautiful photos of Dancing With The Stars Season 20 Week 3! To see even more, see Getty Images.
I was loving this dance last night! How about you? I want more PRO NUMBERS!!! Please TPTB!!!! PLEASE!!!