This season, we opted to do things a bit differently – as we have with just about every other regular feature we do each season, since the format is a bit wacky, to say the least
First, we've divided WWIB into two parts – mainly to accomodate the fact that Kirstie & Maks' and the 13th couple's (who we now know to be Sabrina & Louis) promo photos have yet to be released, but also to buy us some time for the labor-intensive task of finding good pictures for some of these
Secondly, we've included the couples' promo photos from their original seasons for comparison as well.  But as always, we've offered up our usual snark commentary on each of the costumes, for your enjoyment
Battle of the turquoise & black lace corset dress/Kelly & Alec vs. Kelly & Val:  Kelly & Alec's season 1 promo pic vs. Kelly & Val's season 15 promo pic vs. Edyta in the season 9 pro tango demo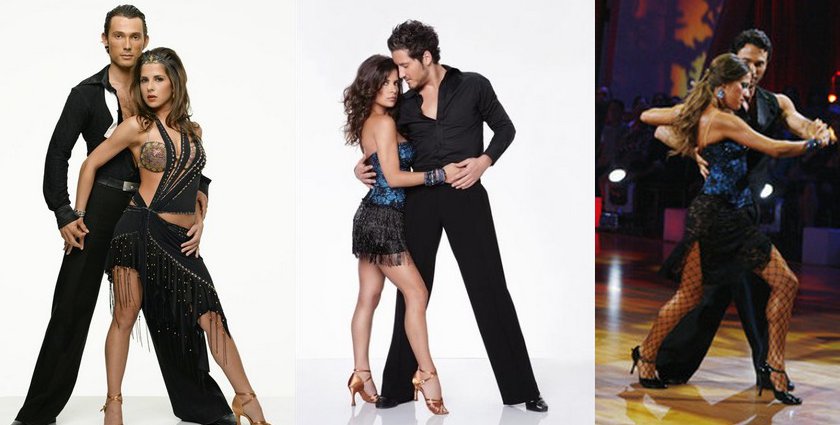 Courtney: The Iceman cometh! Wow, even Alec's promo pic screams "I have no emotions" to me.  And while Kelly is a bit better, I still wish she'd actually smile in her promo pics – the whole "smoldery non-smile" she does just seems like she's trying too hard to me.  And I'm probably the only one that feels this way, judging from some of everyone's initial comments on the promo photos, but I'm not really all that wild about Kelly & Val's pic…you'll see I'm not much of a fan of the couples that went the "smoldery" route with their promo pix.  As for the costume itself – gotta go with Edyta on this one.  Granted, it's hard to hold a candle to Edyta in pretty much ANY costume, but I think I like it better with a lace skirt, as opposed to a fringed one.  And while I was cursing under my breath while putting this edition together about how BAD some of the costumes have gotten since Randall left, I thank my lucky stars we're not still stuck with Designs to Shine, who costumed the first season. Can we say "tacky"?
Heidi: Val sez, "You…are sooo sexy." To which Kelly sez, "You are sexy, but I am sleeping with my cousin's best friend's husband's brother and am simply toying with you as a cover to hide our true looove…." That is my long winded way of saying, Kelly is a soap actress…they only do smolder.  Sometimes well, sometimes not – and Val is a huge step up from Alec in terms of emotion and Kelly has evolved to smoldering with her mouth *closed*.
The dress you ask? I go with Edyta sans fishnets.  Although I think it's cuter in the shorter length.
The verdict: Just say no to soap opera smolder.  Read more..