It's that time of year once again, boys and girls – time for Pro Watch. 🙂  It will be very interesting to see what happens this year, after they let go of the band. That was a huge cost savings to them. The question is: are they looking to save even more money (say goodbye to Derek and possibly Cheryl) or have they saved so much that they can afford the popular, long term pros that have kept people coming back to this show season after season? I personally think that they will do what they can to hold on to Derek – he's an Emmy winner and that's very helpful to the show's cache. I think they will also do their best to hold on to Cheryl, Karina and Mark. I'm GUESSING that Val and Tristan are still locked into contracts that are beneficial to ABC so they aren't in question as long as they find a partner for them.  As always, I could be wrong. 🙂 Read more..
Hey All! Below is the schedule for "Ballroom With A Twist 2" which is currently on tour with rotating pros from Dancing With The Stars. You can find the city and dates below with links for "buying tickets" as well. Note: if you are able to go, be sure to let us know in comments or send us your review and pictures to our "Contact Us" link. We'd love to feature your story. I was able to see the show in Cheyenne, Wyoming on February 1, 2014. You can read my review and see some photos I took of Sharna Burgess and Gleb Savchenko (and some of the cast) at this link. They were magical to say the least!! It's one thing to see the pros on TV on Dancing With The Stars and quite another experience to see them up close and personal. So, be sure to see Ballroom With A Twist! It's a lively and fun night of entertainment!
Exclusive Interview: Producer Scott Stander talks with us about the show. See this link to read about it.
For all the latest news, reviews, interviews, photos, and more, see this link.
ETA: The new 2015 Spring and Summer schedule is starting to take shape….
ETA2: More dates have been added to the Spring and Summer Schedule. A couple of dates have the Pros listed as well for those interested….
ETA3: The Bemidji show has been rescheduled to Nov. 12th.
For the schedule, ticket links, etc…
Shippensburg,PA Luhrs Performing Arts Center June 13 (Anna Trebunskaya & Dmitry Chaplin)
8:00pm
Tickets

Brooks, CA Cache Creek Casino June 27, 2015 (Chelsie Hightower & Tristan MacManus)
8:00pm
Tickets

Bethesda MD Strathmore July 11
8:00pm
Tickets

Newark, New Jersey New Jersey Performing Arts Center July 18, 2015 (Anna Trebunskaya, Dmitry Chaplin, and Lacey Schwimmer)
8:00pm
Tickets

Beverly MA North Shore Music Theatre Thu-Sat July 23, 24, 25 (Chelsie Hightower, Lacey Schwimmer)
Various Times
Tickets

Greenville, TX Texan Theatre Wed, Aug 5
7:00pm
Tickets

Westbury, NY NYCB Theatre at Westbury August, 9, 2015
8:00pm
Tickets

Patchogue, NY Gateway Theatre Wed-Sun, August 12-16th (Dmitry Chaplin, Chelsie Hightower)
Various Times
Tickets

Bemidji, Minnesota George W. Neilson Convention Center Nov. 12, 2015
7:30pm
Tickets
It's that time of year once again, boys and girls – time for Pro Watch. 🙂 I'm starting it a bit earlier than normal because we've gotten confirmation about Derek and a maybe about Maks earlier than ever before, as I recall. While Derek often knows very early, he's not usually big on sharing – that seems a bit different this year. He's confirmed he's back with both the LA Times and Access Hollywood when they asked him. Now, it's possible that this could just mean he's open to it, not that he has a partner, but I suspect if he wants to do it, he gets to do it.
Also, at the TCA Summer Tour, Paul Lee, the ABC President of Entertainment, was asked about Maks and he gave an answer that was interpreted by differently by different outlets. No shock there. Access Hollywood said he said Maks "may well be back" and TV Guide said he said "likely" be back – now, call me crazy, but those are actually different interpretations. So, I am going with "maybe likely" as a happy medium. Particularly after last season, when Maks himself was saying he was back and then he wasn't. And sorry Maks fans – it's not a sure thing because, contrary to your world view, the ratings didn't actually go down because Maks wasn't there – they have been on a constant downward trend for a few seasons now, including those when Maks was present. We've been writing about it for a few seasons now, including after All Stars which was down 20% from season 14 – Maks was on both seasons. Sixteen was lower again = downward TREND.
As for the rest?? Well, Lizzie was asking who we wanted Val to dance with this season, but that could well be a "if we talk like it's true it will become true" PR style. I suspect he'll be back though. I wouldn't count on Gleb or Louis…and maybe not even Tony. I really think they need to give Henry a shot, and I expect that both Mark and Tristan will have spots. As for the ladies, I suspect that Cheryl and Karina, and possibly Sharna, are the only sure things. Everyone else seems like they could go either way.
The big question mark for me?? Will there be a troupe?? I suspect there will be, although we won't see them nearly as much early in the season. Don't worry, Troupe fans – if what Paul Lee says about a possible return to two shows a week in the spring is true, then all may not be lost.
ETA1 Vogue here with an UPDATE: According to Enstarz, Val Chmerkovskiy will be dancing in Dancing With The Stars Season 17. He not only told them he will be dancing, he also told them his dream partners as well as saying, "I just want a partner who is willing to work and has a strong work ethic" and "You can be a supermodel, an actress, an athlete… but to be a good partner, you have to be willing to put in the work." Be sure to read the link for more!
ETA2: Chelsie could be "possibly in". See this post for more details!!
ETA3 Vogue here again: Due to this tweet by Sharna, we suspect she might be "possibly in".
ETA4 Vogue again: After discussing this with Court and the way she read Sharna's tweet, we've decided together to take out "Possibly In" for Sharna. The pros may be posting optimistically looking forward to season 17 (or the craziness of it, etc), but, that doesn't mean they are "in" or are "possibly in".
ETA4: This is sad. I hate to even report this, but, according to US Weekly, Kym Johnson won't be dancing this season. She tells the magazine, that she has an "amazing work opportunity back home in Australia." More here. Thanks to Lori for the heads up. Also, Chelsie tweeted of receiving "good and bad news". We have no idea what she's referring to, but, we're changing her status to "unknown".
ETA5: Karina is IN per @DWTSGossip!
ETA6: @DWTSGossip is also reporting Peta, Cheryl, Tony, Val, and Mark "in" as well.
ETA7: The hits just keep on coming, as DWTSGossip tweets that Maks "will not be returning" for season 17. -Court-
ETA8: The day of the furious pro watch updates continues, as DWTSGossip reveals that Anna & Chelsie are out and that Lindsay & Emma are in…although the "I guess" at the beginning of her tweet seems to leave a bit of margin for error…-Court-
ETA9: And now we have a bit of news on Henry. We think he's "Possibly in the Troupe" or been "Promoted" because of what was tweeted in this twitter exchange. As Court just wrote to me privately, the problem with the guys right now is that we don't know if any of the male troupe members are getting promoted. So, Henry may be in the troupe or he may have gotten promoted based on the tweet. In conclusion, we're going to side with caution and assume it's the troupe. -Vogue and Court
ETA10 Vogue: DWTSGossip is reporting Sharna is also "in"! She's also reporting via twitter that she knows for a fact Sasha is not a Pro "as of now". @Dwtsgossip writes to us that Sasha may very well still be in the running. Also, Tristan and Gleb are not confirmed yet.
ETA11: Oksana is out via Val's twitter. Though the tweet has now been deleted. So, we're going to mark her as "possibly out".
ETA12: Just a little update on Troupe member Julian Tocker. He has tweeted that he won't be dancing full time because of the new format, but, we'll still see him around. Sad as it makes you wonder if it will be the same for some or all of the troupe members? Also, and if there is a full time troupe, how many will there be in it?
ETA13: Some good news and some bad news today (depending how you look at it and who are your favorite pros). @DWTSGossip is reporting Tristan is "in", but, Gleb" is "out" (sad, I was hoping to see him back). So, what does this mean for the 6th male spot left? Will it be filled by a returning Pro (Louis? or did they change their mind and decide to make Maks a pro?), a promotion for a troupe member (Sasha or Henry?), or will it be someone entirely new? Penny for your thoughts!
ETA14: Guess what Kids? @DWTSGossip says she got mixed up and Gleb is IN! YAY!
ETA15: I'm baaaaacccckkkk!! And here to report that @dwtsgossip just tweeted "Sasha dancing with Snookie?? Mark out??" Clearly, those are question marks, so don't get too excited. 🙂 If true, good for Markie – time to go full bore on that music career, bud. -Heidi
ETA16: And Markie is in…and Sasha may not be. @dwtsgossip can't confirm him, but he/she can confirm Mark. Again, certain sources out there have a piss poor track record – dwtsgossip is not one of those, and neither is TMZ. I'll leave it at that. 🙂 But seriously people -always consider the source. And remember no one is infallible. Don't get worked up until September 4th. 🙂 p.s. see mark's tweet to dwtsgossip. 🙂
ETA17: Heidi here to tell you that a few spots in Pro Watch may just be WRONG. Dead wrong. Sorry, that's all I can say right now. We're in for one surprise tomorrow and a couple other mild surprises. 😉 Maybe – take it with a grain of salt as usual when mysterious sources appear. 
ETA18: Errr…well, the cat seems to be out of the bag on some other sites (and Heidi is already in bed), so here it goes: Lindsay has allegedly been downgraded to troupe along with Gleb, Sasha has allegedly been upgraded to pro from the troupe, and one of the "non-troupe lurkers" I mentioned almost a month ago, Tyne, has allegedly been fast-tracked straight to pro.  Witney & Henry remain in the troupe, which is now only 4 strong.  I'm not exactly happy with this new development (especially since Tyne, to my knowledge, is just a contemporary dancer), but I'm interested to see what you guys' thoughts are…and keep in mind, this does seem to contradict some of what we've already heard from reputable sources, so take it with a grain of salt. -Court-
Male Pros
Derek – IN
Val – IN
Tony – IN
Mark – IN
Sasha – IN
Tristan – IN
Female Pros
Cheryl – IN
Tyne Stecklein – IN
Sharna – IN
Peta – IN
Karina – IN
Emma – IN
Out For the Season
Kym – judging position on DWTS Australia
Maks – OUT per DWTSGossip
Anna – OUT per DWTSGossip
Chelsie – OUT per DWTSGossip
Louis – OUT per Louis' twitter
Lacey – Most Likely OUT
Super Troupers, Past and Present
Oksana Dmytrenko –  OUT of the Troupe
Sasha Farber – Promoted to Pro
Henry Byalikov – IN Troupe
Emma Slater – Promoted to Pro
Kiki Nyemchek – OUT
Nicole Volynets – OUT
Ted Volynets – OUT
Dasha Chesnokova – OUT
Witney Carson – IN Troupe
Julian Tocker – Not dancing full time in troupe this season, but we'll still see him around.
Gleb Savchenko – downgraded from pro to troupe
Lindsay Arnold – downgraded from pro to troupe
This past weekend, Dancing With The Stars pros Tony Dovolani, Karina Smirnoff, Tristan MacManus, Val Chmerkovski, Oksana Dmytrenko , Sasha Farber, and Emma Slater helped to raise over $12,000 dollars for Covenant Hospice at the 5th annual 'Life's a Dance' event in Pensacola, Florida. You can view a few segments of the event and some coverage at ABC3 here and here.
PureDWTS reader Gail sent us some personal coverage as well. Below is Tristan with the ladies of the Fred Astaire Dance Studio in Pensacola. Gail tells us Tristan was sunburned, but, he was still in fine dancing form as you can see.
Fan Angela Anderson also attended the event. She's been posting some awesome video coverage at her You Tube page of some of the dances. For instance, below is Oksana and Val!
However, it was not all work and no play for our pros!! There was some time for relaxing and fun in the Florida sun too. For instance, Emma Slater has been posting some breathtaking photos of she and Sasha enjoying some beach time. Be sure to take a look. They are beautiful and the white sand is so inviting. I am so in the mood to go to Florida again now. Who's with me?
Special thanks to Gail and Angela for all the fantastic video coverage of this event. xx
Well DWTSers, it looks like they're expanding the Troupe this year, from 6 dancers to 8! Sharna was promoted out of the troupe this season, so we knew we would get at least one new pro troupe members. Instead, we get THREE!
First, ELENA SAMODANOVA… She comes to us from Australia's DWTS, like Gleb, who is one of our new teaching pros.
Elena was born in a dance family so she started dancing before walking. Since her infant years Elena has always been on the dance floor dancing to all different styles of music..

During her youth Elena has won many Russian championships and awards in Latin American and Ballroom genres internationally.
Elena became a professional dancer at the tender age of 16 and she became the "World Youngest Professional Latin American Dancer" and soon after such, Elena was ranked the Top 20 dance couple in the world ranking in Latin American genre. Even since she has been performing, teaching and competing all over Europe and Asia.

The next decade marked further special achievements in Elena's career in which she won many more international competitions and championships around the world. In 2009 she hit the Top 10 professional dancers in the World ranking of Latin American. Elena's titles include being the Asian Professional Champion, Hong Kong Champion, Japanese Champion, Singaporean Champion and England Champion.

Elena has obtained her official certificate as a professional Latin American and Ballroom professional dance teacher and has the highest credentials and qualifications to teach in Russia, Hong Kong, England and Australia.
At this moment Elena Samodanova is the National Australian Professional Latin American Champion having won the 4 major dance titles down under and as a result she will now be representing Australian on the next World Dance Championship this November. This year Elena also makes her DANCING WITH THE STARS debut.
ADDING: What fun! I finally realized that I could possibly find more about our new troupe dancers on You Tube! Elena WAS on DWTS Australia, but my computer wasn't cooperating with me to play any of those videos! However, I DID find one of her dancing the Paso with Gleb! And, since he's a New Pro, and one we HAVEN'T seen dance yet, here's our opportunity!
Elena and Gleb dancing Paso at a private function, 2009(ish)
Second, WITNEY CARSON… Witney competed this past summer on So You Think You Can Dance along side her friend Lindsay, who is now one of our new teaching pros.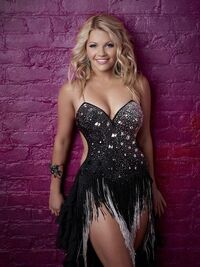 Witney Carson was born and raised in American Fork, UT. Witney has been dancing since the age of 3; training, performing, and competing has been her life. Her specialty dance is Ballroom. She recently graduated from American Fork High School, and is ready to start her new adult life!
ADDING: A video from SYTYCD, which seems to be the first week of competition?? (I didn't watch) She's dancing Samba with her partner Chehon.
Witney and Chehon, "So You Think You Can Dance" 2012
Third, JULZ TOCKER…
Unfortunately, my search has come up scarce, and all I could find on Julz is what's on his twitter bio, Dancing With The Stars season 16 cast member. International Ballroom and Latin American Champion, Dance Teacher/Coach, Model, Actor and a whole lot more people. That, and he has Gleb and Jason Gilikson on his facebook friends list.
ADDING: Julz was dancing in Australia on the show, "Everybody Dance Now 2012" which ran only one season, and was cancelled. I did find one video with him dancing with his partner Annalisa. He's in the first 5 minutes of the video…
Julz and Annalisa, "Everybody Dance Now" Australia 2012
If you know or can find anything more on Elena, Witney or Julz, PLEASE let us know in the comments, with url or documentation, and we'll add it and credit you. Unfortunately, all 3 are new to me.
Rounding out the troupe are returning members SASHA FARBER, EMMA SLATER, HENRY BYALIKOV, OKSANA DYMTRENKO, SONNY PEDERSEN.
ADDED: A couple videos from @ButterflyWhirl, thank you!
Witney, Lindsay and Nick doing a ballroom trio, SYTYCD 2012
Elena and her partner Shannon Noll, DWTS Australia 2012
The post started getting long and confusing, so I decided to move the current standings up to the top of the page. There are supposedly 12 couples, so things can still get interesting. 🙂
Current Standings:
Male Pros
Derek
Val
Tony
Mark
Gleb Savchenko
Tristan
Female Pros
Cheryl
Lindsay
Sharna
Peta??
Karina
Kym
Out For the Season
Chelsie
Anna
Maks (???)
Lacey
Louis
ETA: See Karina's facebook and Lacey's twitter for the source of my latest updates. Late on Saturday before the announcement and we still have some HOLES in our roster. Hmmmmm…
ETA2: DWTSGossip tells someone that Tristan is in, but doesn't actually tweet it outright. Uncertain?
ETA3: Louis tweets that he's not going to be on this season, which is not too big of a surprise.  An ambiguous tweet from @DWTSGossip makes us wonder if Maks really is out or not…and it appears as though Lizzie Grubman may have flown to LA yesterday.  Emma confirms she's in the troupe again this season (and is not a pro), which leaves us wondering: who is this mysterious 12th pro??? 😯
ETA4: And the mysterious fourth pro appears to be Gleb?? It is very obnoxious of me to say this just cuz I've never heard of the guy…but is this a joke??
ETA5: And I must give props to Miss Sally for picking up on the suspicious "What a beautiful day!" comment Kym tweeted at 4:26 AM Sydney time – which is actually 9:26 AM Los Angeles time…because DWTSGossip is reporting Kym is IN as the last female pro 😎 Looks like Tristan has also been confirmed as the final male pro, which leaves Maks & Henry out in the cold.  Interesting…
Confirmed Sooper Troupers
Witney Carson (according to Grant's source)
Sasha Farber
Emma Slater
————————-
ABC 4 interviewed Mark Ballas today about his gig, "An Evening With Mark Ballas" tonight in Provo, Utah. Derek Hough, Oksana Dmytrenko, and some dancers from Strictly Come Dancing will be dancing tonight as well. Mark also talks about his longtime friendship with Derek, his music, and Dancing With The Stars. You can listen to this new three part interview and listen to him perform a song at ABC 4.
Well kids, we're back & snarky/juvenile/perverse/etc!  😛 And for those of you not accustomed to our particular brand of humor – consider yourself warned.  We swear, we get innuendo-y, we make fart jokes, and we call people out for being stupid on the show.  If you are hypersensitive/lack a sense of humor/are a prude/whatever, you probably should just skip this post altogether…and you sure as hell better not comment on it.  Because any Debbie Downers/Bobby Buzzkills lurking in the comments section will be deleted without a 2nd thought.  Consider this the party post – party poopers need not apply, because we have plenty of fellow freaks who love to party along with our special brand of humor.  Party on, Wayne 😉
The "C U Next Tuesday" Award: Carrie Ann Inaba, for repeatedly calling out Tom for cutting her off
Courtney: We learned pretty quickly on Monday whether we'd get cool Carrie Ann or bitter, angry Carrie Ann this season – and I think she made it pretty clear it's definitely the latter.  Look, CAI, I get it: your fairytale engagement didn't result in a fairytale wedding, and you're probably not too happy about that.  But did you really have to repeatedly heckle EMMY AWARD-WINNING HOST Tom Bergeron for cutting your commentary on Joey & Kym's cha-cha off early? It was pretty obvious the show was moving at breakneck speed in order to fit everyone in, and I daresay that, being the EMMY AWARD -WINNING HOST of a LIVE reality tv show, Tom Bergeron knows a thing or two about effectively fitting into a time frame while still being entertaining – plus he probably had the Muppets upstairs screaming in his earpiece to move things along.  I highly doubt whatever long-winded critique you were going to offer up was all that insightful, CAI – it seldom is.  Yet your excessive self-importance forced you to interrupt things not once, not twice, but THREE TIMES to remind everyone that Tom cut you off – who's the asshat now?
Heidi: My brother texted me during the show to call CAI names….then commented that her tampon is in sideways. 🙂  Yes, that is my family…we tend toward gross at times. But also very apropos.  But seriously, don't heckle The Berg, biotch. It's not all about you. Hard to believe, I know.
Courtney: Looks like someone had a bad case of Emmy Envy.  😛
The "Deeerrrrp" Award: Chelsie Hightower, for getting confused over the native languages of Brazil & South America; (dis)honorable mention – Val Chmerkovskiy, for not really knowing what Kelly did for a living
Courtney: "Wait…they speak Spanish in South America???" I'd like to think this was taken out of context, but from the puzzled look on Chelsie's face…I doubt it was.  And by the earnest expression on Val's face as he asked "Oh, you work in a hospital?", I'm gonna venture a guess that "catching up on the soaps" is not on Val's list of hobbies 😛
Heidi: Both were hilarious…but I was yelling at my TV, saying "Chelsie, STOP talking, yer makin' it worse", while laughing at her.  Val I thought was just endearing…and for Kelly, humbling. 😀
Couple's Schtick That is Most Likely To Get Old VERY Quickly: Sabrina & Louis reminding everyone that Sabrina was voted in and this season is "all about redemption"; (dis)honorable mention for Derek's short jokes and Kelly & Val's pattycaking
Courtney: I just think the short jokes are corny 😛 And I guess I would just rather see Kelly & Val doing something other than pattycaking…something more…intimate.  😉 Maybe if they were playing pattycake with their face.  LOL 😛 But the Sabrina & Louis "the viewers chose us to be here!" and "this is all about redemption because Sabrina left too early" poppycock is just beyond annoying at this point.  If that's their big reason why people should vote for them – then they must not be that special, because every week that any of the couples is sticking around, is a week they are being "chosen" by the viewers, since they're obviously getting votes.  And you want to talk about "redemption"? Gilles was narrowly beat out for the MBT by a mere 1%.  Joey & Kirstie are both 2nd place finishers; Bristol finished 3rd in her season, and was pretty unpopular.  Drew, Kelly, & Emmitt are all trying to prove that the earlier champions are every bit as good as the newer ones. I daresay any of the names I just mentioned have a greater hunger for "redemption" than a 7th place finisher who just couldn't get the votes to stick around in season 5…and has been reminding us about it ever since.
Heidi: Eh, I don't mind the short jokes and Derek usually recognizes the shelf life of  joke in general. (I have to say, though, that the harassment he got from one Shawn fan freak on Twitter was OTT – yo, Derek ain't the one that looks bad here, nutjob!) Also didn't mind the patty caking – was rather amazed by that, actually. Not sure I could do that without a shit ton of beer to relax me.  🙂 But the Sabrina crap is in a whole other league from those other two because we've been hearing for YEARS about her (not) shocking elimination. Talk about drinking game potential. Get the fuck over it already! I'm about ready to stick a pen in my eye.  Guess what kids – you were voted in over Carson and Kyle, NOT the rest of the cast. You better hope like hell that Team Sabrina is a lot bigger than I suspect it is. Read more..
Tom Bergeron won the Emmy for outstanding Reality Host tonight! Very well deserved and its about damn time!
His acceptance speech was quintessential Bergeron, closing by thanking Jeff Probst for not being nominated. 🙂
ADDING: Vogue here and here are some fun photos from the night of Tom and Carrie Anne in their finest at the Nokia Theatre in Los Angeles, California!
Lots more pictures of the night at Zimbio Pictures and Getty Images including judge Bruno Tonioli and former contestants from Dancing With The Stars.
Troupe member Oksana Dmytrenko also posted this picture of herself and John Birkitt going to the Emmy's at her facebook page. What do you think? Just beautiful!