I was expecting a lot more from Melissa but she never fully delivered for me.  However she did have some fun dances and sweet costumers!!
BEST DANCE
Melissa's best dance was her Charleston by far!  I think this was because she was in her element of acting the piece more than dancing it technically. 
SEXIEST COSTUMES
Who doesn't love fringe!  This costume was so bright and suited her personality very well!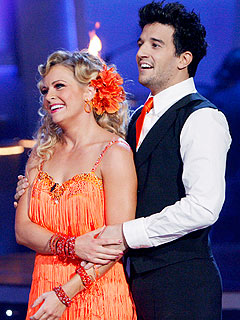 She look's so elegant her!  This dress was so gorgeous on her and you can tell she has having so much fun with Mark!

Thanks to Phillipe, I have pictures of her amazing Charleston dress 🙂  Or maybe I'm just a fan of the era…who knows!