Below is Lori with Carrie Ann Inaba and Julianne Hough's new blogs!! She is life saver and helping me with Blogs on Media Tuesday and I'm liking the way she's combining them! What do you think? And Lori, I loved Julianne's lip stick too! THANKS for all of your help!! ~ Vogue
I'm trying something new, and putting both of our female judges in one place. Let me know if you like it this way, or would prefer to have them separate.
Carrie Ann's weekly blog post is up at Parade, and it was obvious to me that she reads the comments that people have about her judging.
On a personal note, last night was challenging for me personally. It is never easy to give constructive criticism to people you look up to and respect. However, that is what we are there to do, it is our job to judge and I believe it is my job to help each contestant to be their personal best. I offer advice that I hope will help them have a better chance at winning in the long run. After being a judge on the show for every single episode for 20 seasons, I know what the audience likes to see, and I know what we as judges like to see. I may have upset a few people, which I never want to do, but it comes with the territory of being a judge.

Last night, I enjoyed Suzanne Somers and Tony Dovolani's samba. It was a delight to watch and was sheer entertainment. They could have gone straight to Vegas and sold out! But after three weeks of very colorful, light and almost campy (in a good way) routines, I would like to see more depth to her performance. Suzanne is an icon. She is a very strong woman. She's in great shape and she looks terrific, but I feel there's more to her. I'd like to see her do something that expresses her passion, her grace and elegance and shows us a new dimension. I didn't deduct points because she hasn't shown us that yet, but I was offering advice for the future. I upset Tony — which if you have read any of my blog posts or know me at all, you would know is NOT my intention. I have nothing but respect for these incredible professionals on our show. No one works harder on television than our pros, working as choreographers, therapists, friends, trainers and guides throughout this journey for their celebrity partners, and I have nothing but respect for their passion, dedication and excellence. But I worry that if Suzanne keeps doing light performances, she will get lost in the crowd. I'd like to see a bit of drama in her performance, a bit of passion, and a bit more depth. So, I'm looking forward to next week to see what they put together for us. And remember, I'm rooting for everyone out there to do his or her best!
I like parts of this, and do agree, but other parts was Carrie Ann definitely doing some CYA Fluff. Check out the link above to read the whole blog!
And Julianne has her weekly blog is up on People, I LOVE the color of her lipstick!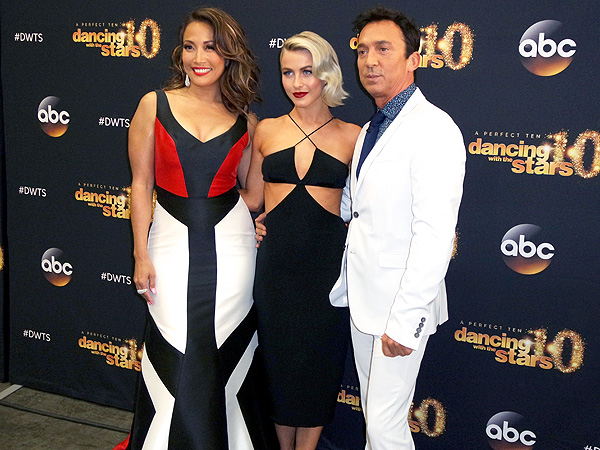 Carrie Ann, Julianne, and Bruno.