The Tom Joyner Morning Show in Charlotte, North Carolina interviewed D.L. Hughley about his up coming schedule of comic shows. They also talk of Dancing With The Stars. Let's just say, D.L. was ready and packed to go home last week, but, he's been working hard as he wants people to know that dancing matters to him. They've been rehearsing every day for 5 hours. He and Cheryl will be dancing a Salsa to James Brown's "Sex Machine"
on Monday night. He says his wardrobe will remind us of "James Brown". Fun interview. I especially love the part where he laughs when they say he might still be dancing on May 21st when he has a scheduled gig. You can listen to more here. I admit…I am starting to like D.L. more and more and this new routine has the makings of being a hoot?
Pic above courtesy of D.L.'s twitter posted March 22nd. ADDING: And here is a picture from today from Cheryl's twitter….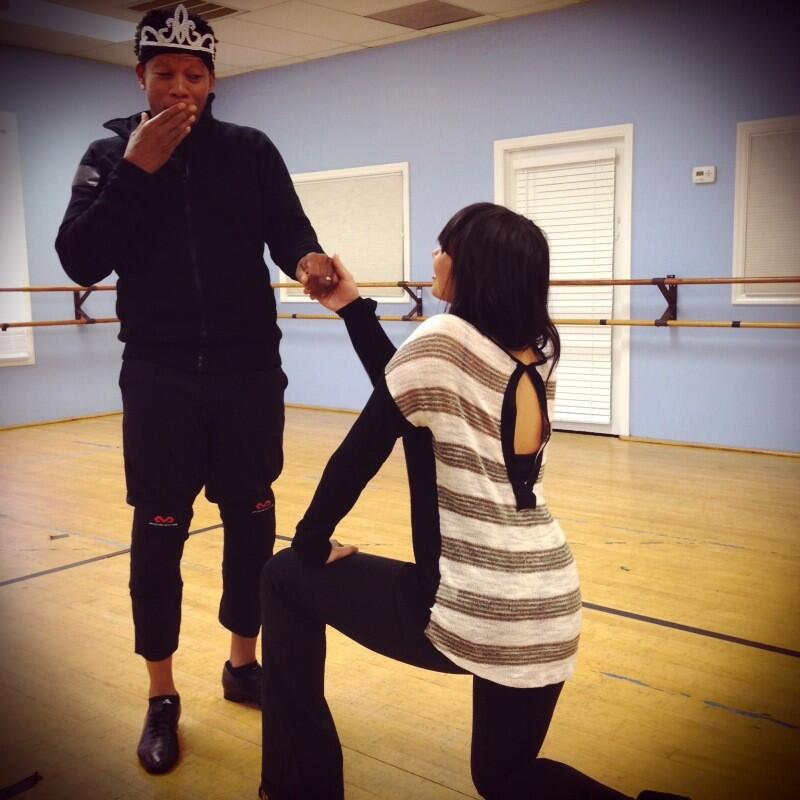 UPDATE: To read Cheryl's new blog, visit People.com. She's sets us up for tonight's Samba and more in this take…
It's pretty amazing to think how many people support us. They've seen us struggle and get frustrated a little bit. They saw how D.L. felt embarrassed on national television and then he redeemed himself. That's what this show is all about. I think in the beginning, D.L. didn't know what he was getting into and now he's really into it.

I feel better because I know now that he knows what to expect. He's going to try his best. He's not going to be the best dancer. We know that. But as long as he gives me his best and tried hard, that's all that matters. We now know how to communicate with each other. I think on top of that, he knows he needs to work hard in order to stay in the competition.

Tonight is our prom-themed dance. We're doing a salsa and it's a song that everyone will know. D.L. was a pimp back in his day. People would pay him to go to prom. He's been to more than five of them. If a girl couldn't find a date, he would be that guy they would call.

This week, we really just want to play it up like we're having a great time. I want him to just have fun out there. The choreography is fun. I want him to play this character. We want to bring out his personality.