Well DWTSers, it looks like they're expanding the Troupe this year, from 6 dancers to 8! Sharna was promoted out of the troupe this season, so we knew we would get at least one new pro troupe members. Instead, we get THREE!
First, ELENA SAMODANOVA… She comes to us from Australia's DWTS, like Gleb, who is one of our new teaching pros.
Elena was born in a dance family so she started dancing before walking. Since her infant years Elena has always been on the dance floor dancing to all different styles of music..

During her youth Elena has won many Russian championships and awards in Latin American and Ballroom genres internationally.
Elena became a professional dancer at the tender age of 16 and she became the "World Youngest Professional Latin American Dancer" and soon after such, Elena was ranked the Top 20 dance couple in the world ranking in Latin American genre. Even since she has been performing, teaching and competing all over Europe and Asia.

The next decade marked further special achievements in Elena's career in which she won many more international competitions and championships around the world. In 2009 she hit the Top 10 professional dancers in the World ranking of Latin American. Elena's titles include being the Asian Professional Champion, Hong Kong Champion, Japanese Champion, Singaporean Champion and England Champion.

Elena has obtained her official certificate as a professional Latin American and Ballroom professional dance teacher and has the highest credentials and qualifications to teach in Russia, Hong Kong, England and Australia.
At this moment Elena Samodanova is the National Australian Professional Latin American Champion having won the 4 major dance titles down under and as a result she will now be representing Australian on the next World Dance Championship this November. This year Elena also makes her DANCING WITH THE STARS debut.
ADDING: What fun! I finally realized that I could possibly find more about our new troupe dancers on You Tube! Elena WAS on DWTS Australia, but my computer wasn't cooperating with me to play any of those videos! However, I DID find one of her dancing the Paso with Gleb! And, since he's a New Pro, and one we HAVEN'T seen dance yet, here's our opportunity!
Elena and Gleb dancing Paso at a private function, 2009(ish)
Second, WITNEY CARSON… Witney competed this past summer on So You Think You Can Dance along side her friend Lindsay, who is now one of our new teaching pros.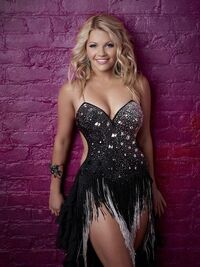 Witney Carson was born and raised in American Fork, UT. Witney has been dancing since the age of 3; training, performing, and competing has been her life. Her specialty dance is Ballroom. She recently graduated from American Fork High School, and is ready to start her new adult life!
ADDING: A video from SYTYCD, which seems to be the first week of competition?? (I didn't watch) She's dancing Samba with her partner Chehon.
Witney and Chehon, "So You Think You Can Dance" 2012
Third, JULZ TOCKER…
Unfortunately, my search has come up scarce, and all I could find on Julz is what's on his twitter bio, Dancing With The Stars season 16 cast member. International Ballroom and Latin American Champion, Dance Teacher/Coach, Model, Actor and a whole lot more people. That, and he has Gleb and Jason Gilikson on his facebook friends list.
ADDING: Julz was dancing in Australia on the show, "Everybody Dance Now 2012" which ran only one season, and was cancelled. I did find one video with him dancing with his partner Annalisa. He's in the first 5 minutes of the video…
Julz and Annalisa, "Everybody Dance Now" Australia 2012
If you know or can find anything more on Elena, Witney or Julz, PLEASE let us know in the comments, with url or documentation, and we'll add it and credit you. Unfortunately, all 3 are new to me.
Rounding out the troupe are returning members SASHA FARBER, EMMA SLATER, HENRY BYALIKOV, OKSANA DYMTRENKO, SONNY PEDERSEN.
ADDED: A couple videos from @ButterflyWhirl, thank you!
Witney, Lindsay and Nick doing a ballroom trio, SYTYCD 2012
Elena and her partner Shannon Noll, DWTS Australia 2012